Research Experiences for Teachers (RET)
Thank you for your interest in our RET program. However, funding for the LA-SiGMA grant ends in January 2016, and therefore, we will not have a 2016 RET program.
We encourage you to apply to the RET program of the new NSF grant, and LA-SiGMA successor, Consortium for Innovation in Manufacturing and Materials (CIMM).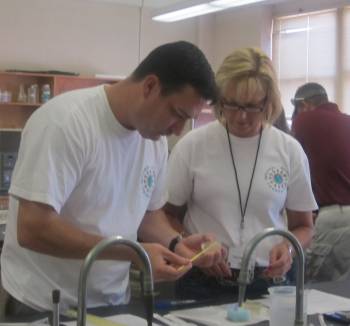 One of LA-SiGMA's education and workforce development programs is the Research Experiences for Teachers (RET). The program is open to middle school, high school, and two-year college Math and Science teachers. RET participants are mentored by LA-SiGMA faculty during the six- or eight-week summer program to do research in one of LA-SiGMA's focus areas and discover how to bring that knowledge back to the classroom.
The total budget for the RET program is $7,000 per teacher which includes up to $1,000 in travel, the RET stipend, materials and supplies, housing (if needed), meals, and materials and supplies for your classrooms. The specifics of the breakdown of the total amount among these categories is left up to each host campus and may be determined in consultation with the teachers.
RET positions are available in Baton Rouge (LSU), New Orleans (UNO), and Ruston (LA Tech).
RET participants are required to create a product, which would be the result of their RET experience. This product, among others, could be a class lesson, an iBook, or a simulation that the public could run in their school or home computer. These materials will be distributed via this website.
To apply for the RET positions please follow this link.
See our flier.
Please contact Staci Kramer at sckramer -AT- lsu.edu or Lindsay Gouedy at lgouedy -AT- latech.edu for more details about the RET programs.