Management Teams
The management structure (Figure 1), which features several interconnected teams described below, is designed to effectively implement and assess the project goals, promote project-wide participation in leadership, and ensure effective communications among universities.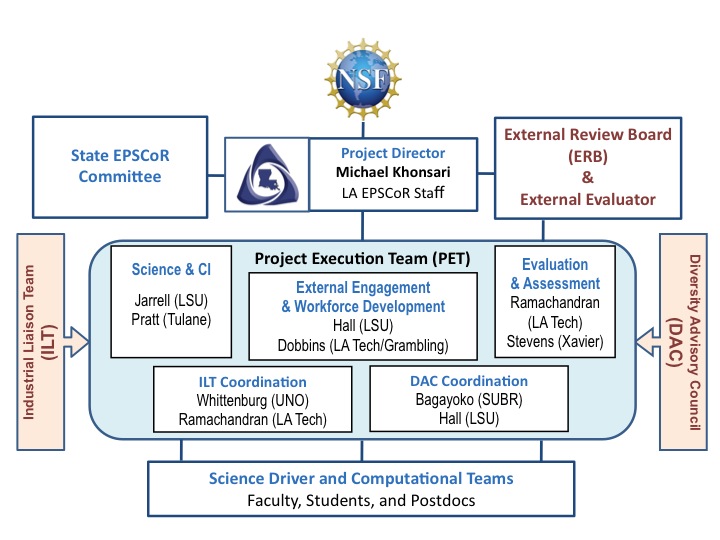 Fig. 1. LA-SiGMA Management Structure
The Project Execution Team (PET) oversees the day-to-day activities of the project and provides direction and guidance to project participants in each of the science driver and computational teams. The eight-member PET, which is comprised of the science leads from each participating institution, includes two females and two African Americans. The PET members are all experienced scientists with the requisite management skills to lead large multidisciplinary projects. They play vital roles in ensuring effective communications between and within institutions. The co-leads assume leadership responsibilities to ensure a smooth succession of leadership, should it become necessary. The Project Director (PD) meets with the PET every other month, at a minimum. Each member is be responsible for defined tasks as follows:
Science & Cyberinfrastructure (lead: Mark Jarrell, LSU; co-lead: Lawrence Pratt, Tulane) focuses on evaluating and monitoring multi-institutional collaborative research projects and the statewide cyberinfrastructure plan. The science coordinator assists this committee to coordinate statewide activities.

External Engagement & Workforce Development (Pedro Derosa, LA Tech/Grambling; Juana Moreno, LSU; Noshir Pesika, Tulane), oversees the proposed external engagement, diversity, and workforce development activities.

Evaluation & Assessment (lead: Bala Ramachandran, LA Tech) supported by one full-time staff and an internal evaluator, assesses all activities of the other two committees, and is responsible for providing assessment data to the External Review Board.

The Diversity Advisory Council coordinated by Diola Bagayoko, SU and Juana Moreno, LSU. Council members include nationally known experts in materials science as well as individuals with national reputations for promoting ethnic and gender diversity in STEM disciplines. The DAC interacts regularly with the PET by video conference and other means to assess progress towards achieving project diversity goals and to provide guidance and feedback on mecha-nisms to improve success. DAC members also attend at least one of the biannual meetings to interact with the External Review Board as well as faculty, postdocs, and students in the Alliance.

An Industrial Liaison Team (ILT) is coordinated by Bala Ramachandran, LA Tech. The ILT is composed of the intellectual property/industrial liaison officers from LSU, LA Tech, and Tulane. Jeff Lynn of the Louisiana Economic Development agency's FastStartTM program and Roy Keller of the LA Business and Technology Center assist the PET in maximizing the economic impact from the project. The ILT identifies industry and government partners who can participate in the research projects and capitalize upon the tools and other research outcomes. The ILT meets regularly and organizes at least one workshop annually that brings together the research teams and industry partners to explore collaborative projects.